One useful tidbit I learned while in Porto, is that the Portugese have many different ways of enjoying port.  In addition to sweet reds and nutty Tawny's, there are also rose, purple, and white ports. And if that didn't make nod your head and say, "huh!"  Then you'll have to try a port tonic.  These sparkling sweet concoctions on ice have become my new cocktail of choice.   They were a welcome refreshment every afternoon and a pre-dinner appetizer every evening.  My love affair with Port tonics began during our first night in Porto, the moment we sipped them while watching the sunset over the Duoro river at a wine-themed luxury hotel, The Yeatman.Thankfully, these delicious beverages are simple to make.  In fact, I doubt you'll even need to write down this easy recipe.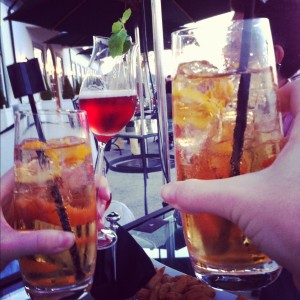 In a tall glass put some ice.
Add 5 cls of a good dry white Port
Add 10cls of tonic water
To garnish add a twist of orange peel!
The trick is one measure of Port to two measures of tonic!